1. Partyyyyyyyy – October 28.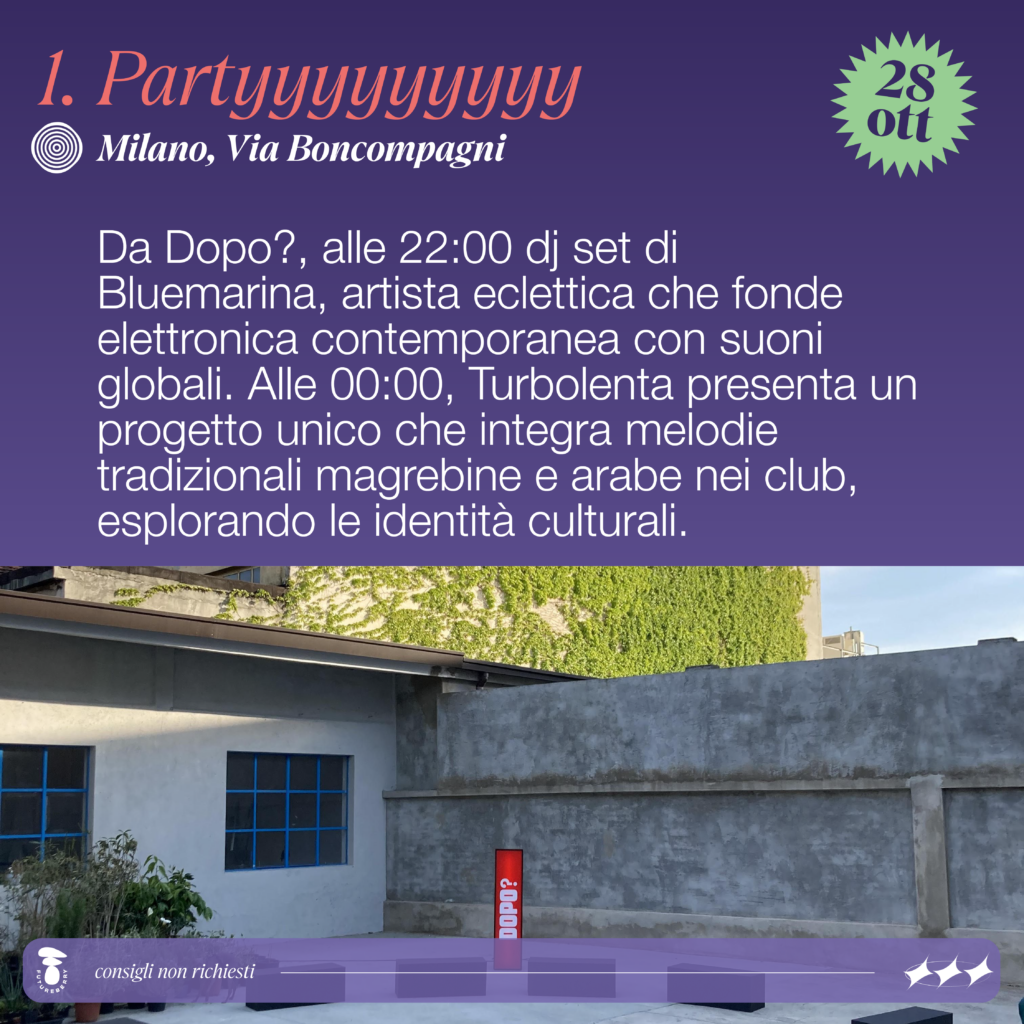 At 10 p.m., Bluemarina, a DJ and designer originally from the Strait of Messina, mixes contemporary electronics with global sounds and promotes gender equality through the Fluidae collective. At 00:00, Turbolenta, with Maghrebi and Arab roots, shares traditional club tunes, narrating past and future cultural experiences. Both bring variety and musical awareness.
2. Statisticall – October 19/20/21/22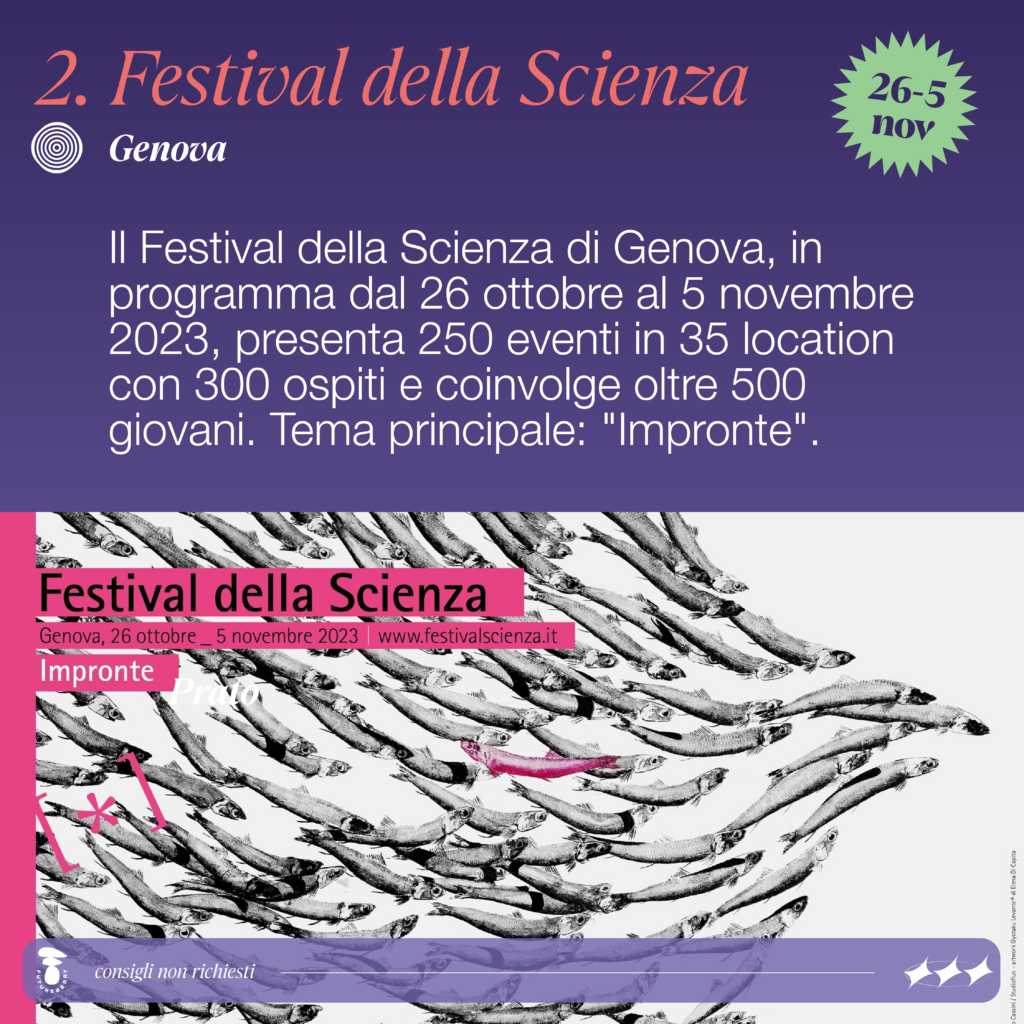 From Oct. 26 to Nov. 5 , 2023, the Festival of Science, a leading international event for spreading scientific culture, returns to Genoa . For eleven days the city of Genoa will open the doors of its wonderful cultural venues to host a program as always full of lectures, exhibitions, workshops, performances and other events. Many topics will be addressed as always at the Science Festival, with a particularly large space dedicated to sustainability. The National Research Council in celebration of its 100th anniversary will be present at the Festival at the Ducal Palace with the exhibition Anthropocene. The land at fire and sword. To the fundamental role of scientific research in safeguarding the environment will be dedicated the events in the Piazza delle Feste at the Old Port, the usual heart of the workshops for children and young people, always populated by classes visiting the Festival. The focus on technologies will be on the future of applications ofartificial intelligence and robotics, which are increasingly pervasive in people's lives, with ethical implications as well, which the Festival will develop with its usual scientific rigor. On the occasion of the project Genoa Book Capital 2023, in the extensive schedule of lectures and performances currently being finalized, there will be space for an ad hoc project dedicated to the value of reading as a tool for popularizing science: a series of meetings close and informal with Italy's leading science communicators. As per tradition, the Festival will occupy the city's main cultural and recreational spaces in the usual spirit of mutual synergy. About 50 city spaces are touched by the event each year, including Palazzo Ducale, Palazzo della Borsa, Palazzo Reale, Galata Museo del Mare, Acquario di Genova and almost all of Genoa's civic and national museums.
3. Temporary Workshop on Emotional Cartography – Oct. 20/21/22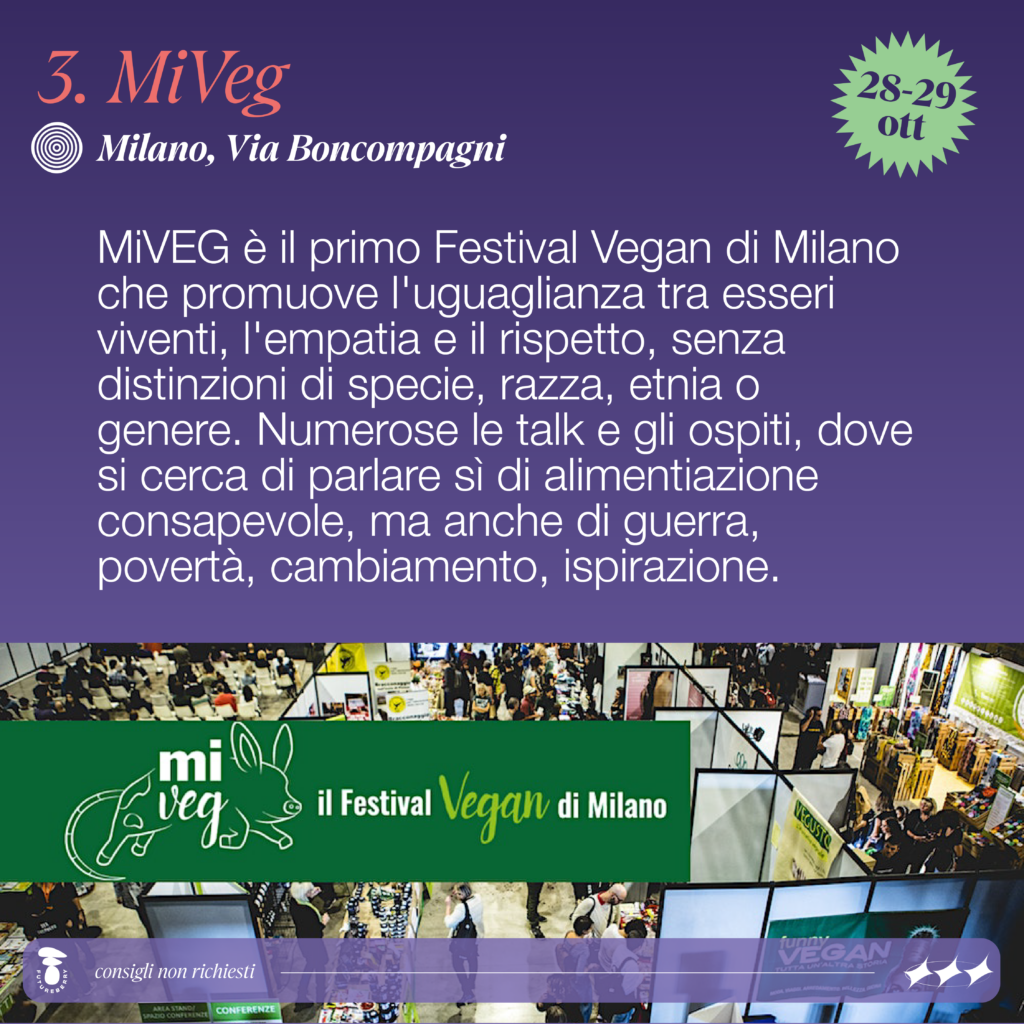 MiVeg is a two-day festival dedicated entirely to animals and those who want to discover the growing cultural and ethical movement based on their respect.
We want to promote conscious choice, to walk with a lighter step on the planet and not be complicit in suffering and discrimination. A way to change perspectives and see the world with other eyes, those of other species, who can teach us to understand what impact human society has on their lives and what positive change can come from each of our choices.
2 days of great food, laughter, fun and reflection
100 booths of merchants, shelters and associations
+ than 25 conferences and workshops
shows, exhibitions, updates, entertainment, book presentations and lots of meetings!
4. Trieste Science + Fiction Festival
From October 27 to November 1, great science fiction cinema returns to Trieste: the 2023 edition of the Trieste Science+Fiction Festival (sciencefictionfestival.org), organized by La Cappella Underground, brings the best productions in the fantasy genre to the big screen, with more than 50 world, international and domestic film premieres and three competitions featuring directors, actors and authors from around the world. The 23rd edition of the Trieste Science+Fiction Festival will take place at the Politeama Rossetti, which will host the films in competition; the Miela Theater, with an offering ranging from shorts to documentaries, through restored classics, midnight movies and a new offering of more experimental films; and the DoubleTree by Hilton Trieste, as well as many other locations in the heart of the city.
BONUS! Thyself Agency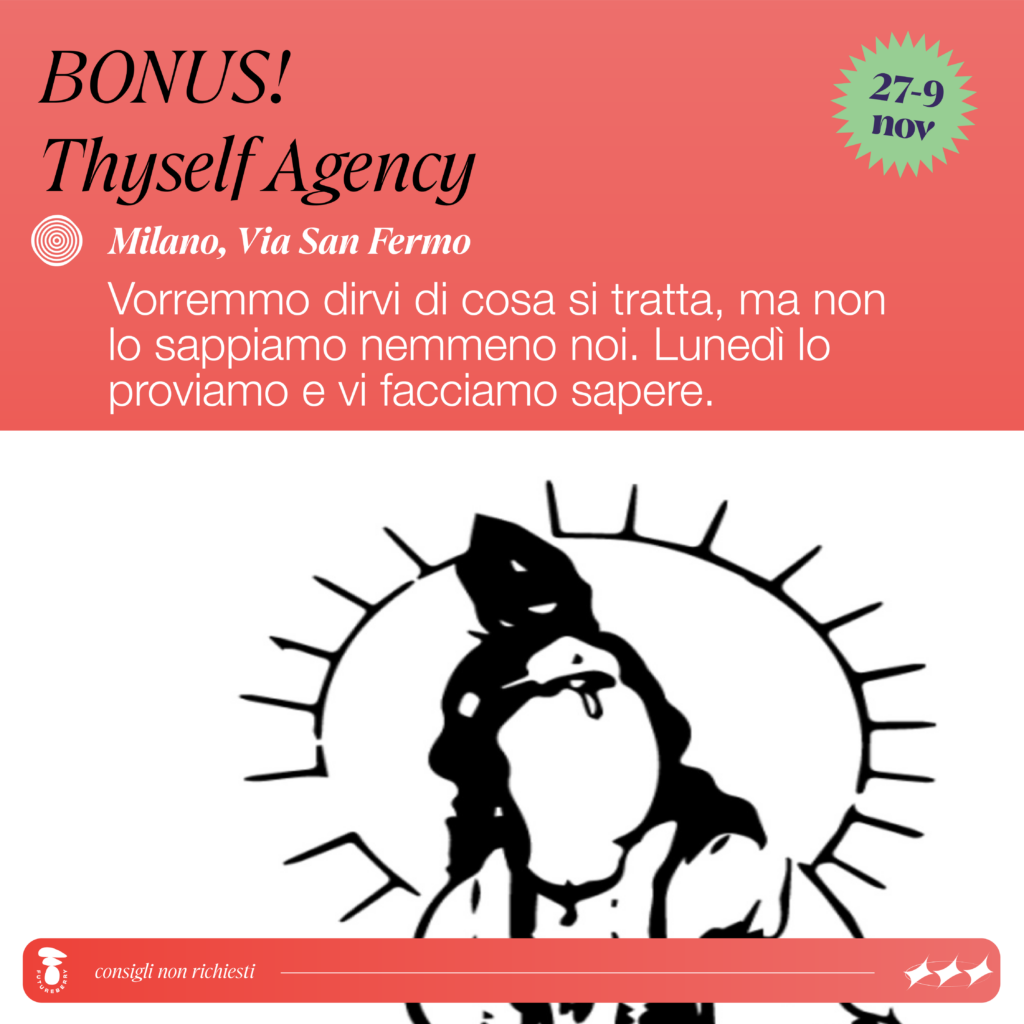 As per the picture, we would like to tell you what it is, but we simply do not know. Let's try Monday, though, and let you know!